Number Of Active Listings Slow Their Steady Decline
Posted by Marvin Peck on Tuesday, October 12, 2021 at 5:25 PM
By Marvin Peck / October 12, 2021
Comment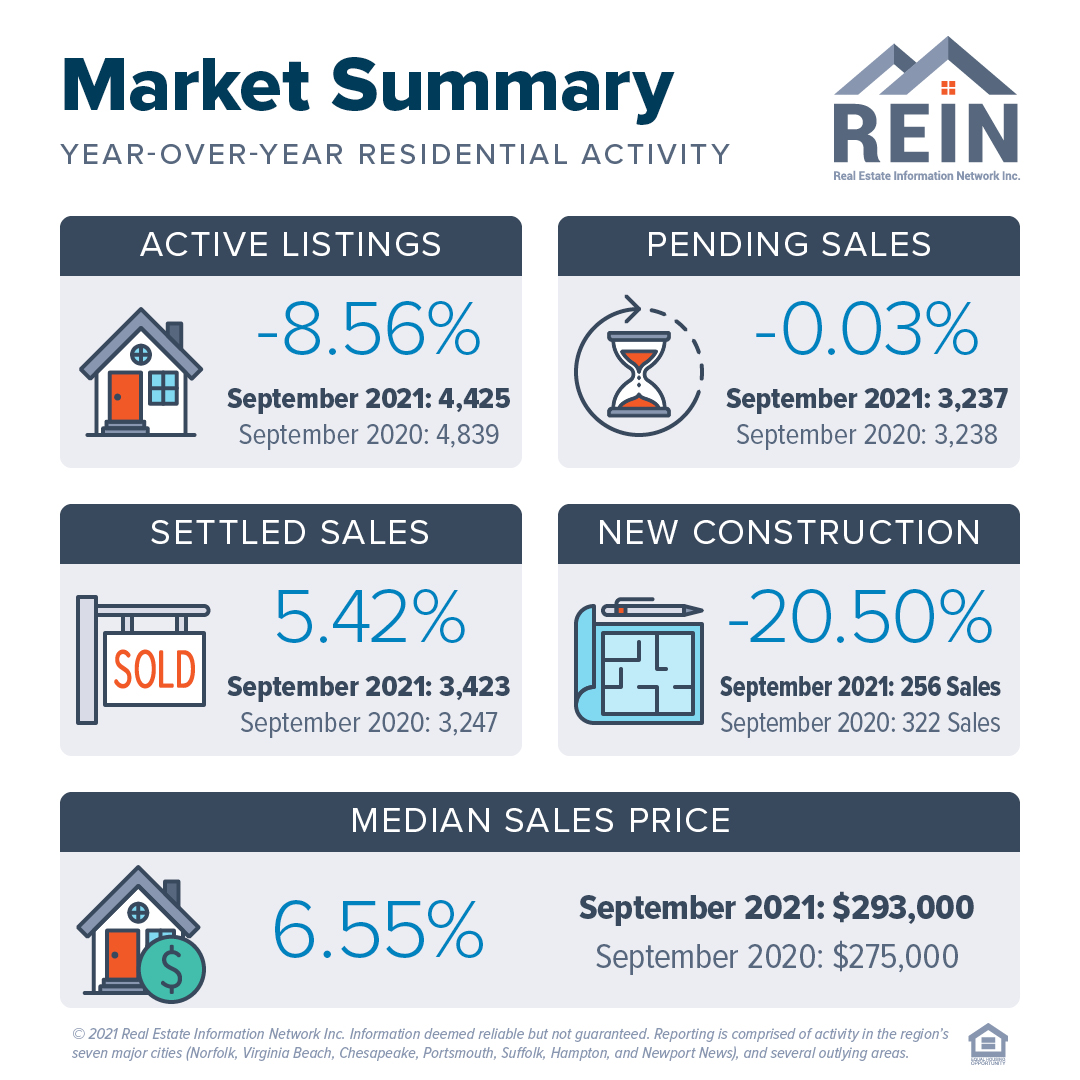 Number of Active Listings Slow Their Steady Decline
VIRGINIA BEACH, Va. (October 2021) – September saw the number of active residential listings in Hampton Roads fall by just 42 listings, or .95% from the previous month, according to data compiled by the Real Estate Information Network (REIN).
However, September's active residential listings, which totaled 4,425, were down 8.5% year- over-year, compared to September 2020.
"The local real estate market continues to be on the side of the seller," said Harry Cross, President of REIN's Board of Directors. "The law of supply and demand drives prices, and locally we've seen during COVID-19 that supply has dropped while demand has remained steady. This has unbalanced the local market."
Related to the imbalance of active listings and settled sales, which are up 5.4% year-over, another interesting factor in the local market is the Month's Supply of Inventory (MSI). This calculation represents the amount of time in months it would take for residential listings to reach zero if no other properties were added to the supply.
September's MSI was 1.39. That's down just .02 from 1.41 in August, but down 23.6% from 1.82 in September of last year.
"In July of 2019 that number was 3.6 and there were 11,129 properties listed, so it's easy to see why the median sales price was $250,000 then, but was $293,000 this month," added Cross.
● Settled sales were 3,423 in September, up 5.4% year-over-year, but down 7.1% when compared to 3,667 in August.

● Pending residential sales for the month were 3,237, down just .03% year-over, but down 12.6% from 3,645 in August.

● The median number of days on market (DOM) for homes in Hampton Roads was 15, up 25% over August when the median number was just 12.

● Residential new construction sales listed in the MLS for September was 256, down from 304 the month prior.

● September's median sales price of $293,000 was up from $275,000 year-over, but down from $297,000 the month prior.

BY: Rami Yoakum, REIN Communications Specialist