How Is The Market Marvin? Junes Stats 2021 VS 2020
Posted by Marvin Peck on Monday, July 5, 2021 at 11:40 AM
By Marvin Peck / July 5, 2021
Comment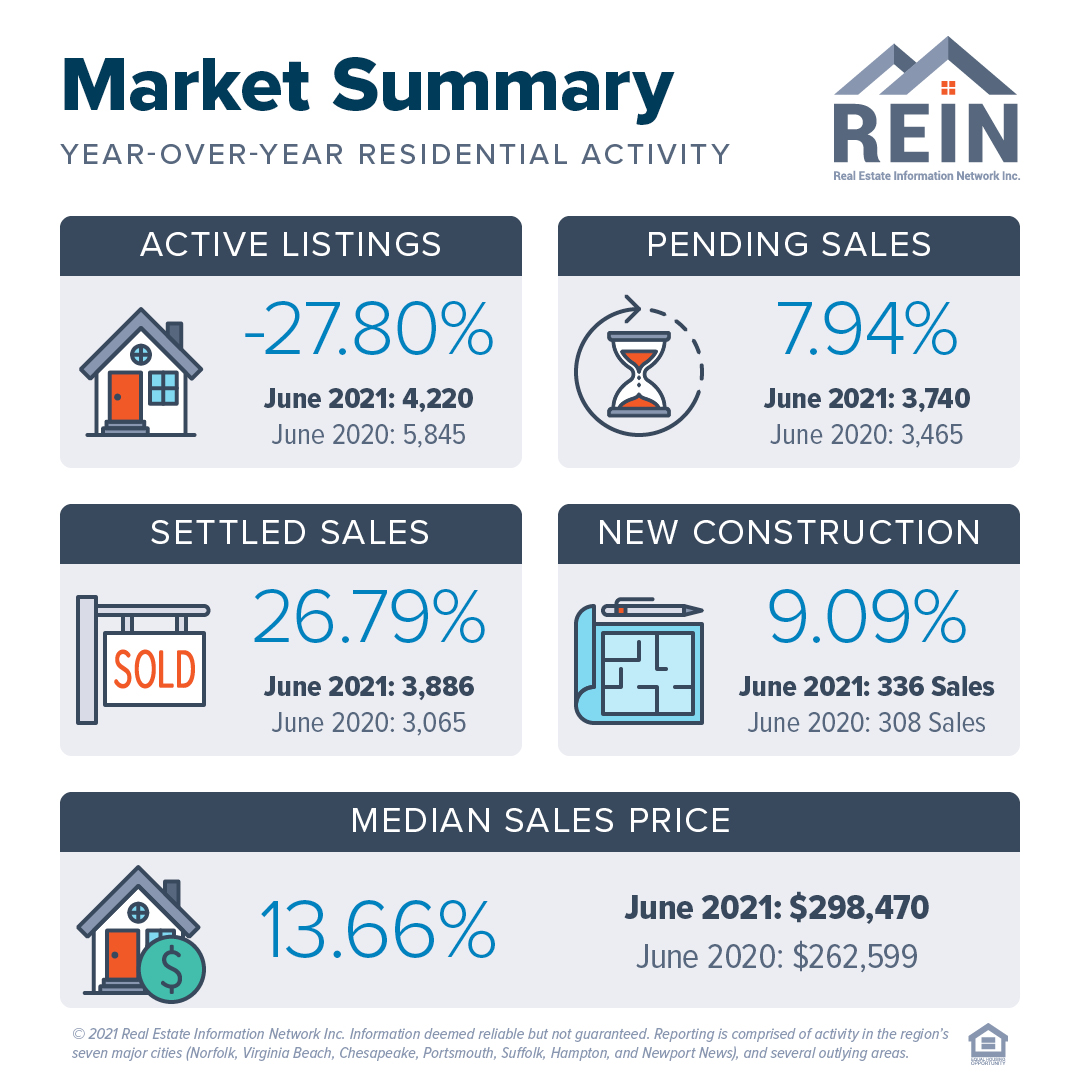 Homebuyers Tap the Brakes During Hot Real Estate Market
VIRGINIA BEACH, VA. (July 2021) – REIN, Southeastern Virginia's Multiple Listing Service (MLS) and the source of statistical real estate data in Hampton Roads, reported a stall in the average number of days on the market — an indicator of how long it takes properties to sell. Hovering at 23 days for both May 2021 and June 2021, this slight pause for residential and non-residential properties may feel like whiplash to agents who have been going full-throttle during this uniquely unbalanced market.
"The number of days a property stays on the market is a key component to projections," said Harry Cross, REIN's Board President. "In fast-paced markets, 'lulls' feel less subtle. For example, instead of a property selling in two hours, a comparable listing may be selling in two days. Still fast, but noticeably different."
This downward trend has been declining for approximately 10 years. In June 2021, the average days on market for residential and non-residential properties in the MLS was 23 days, a significant drop from 84 days five years prior in June 2016, and 122 days a decade ago in June 2011. Separating out just the residential and multi-family listings, the average days on market for June 2021 was nine days.
"Agents have reported experiencing a shift in business even over the last few weeks," said Cross. "School's out for the summer. That one little factor can shift an entire market, especially after the year we've had. Families are enjoying beach days, and taking their first family vacation in over a year and a half! Not all buyers have this luxury, of course, but there seems to be a lull between Father's Day and the fourth of July. Other active buyers may be feeling the fatigue that comes with experiencing multiple rejected offers."
REIN reported month-over-month increases in active listings, pending sales, and settled sales for June 2021. Settled sales saw a 26.79% increase year-over-year, with 3,886 homes sold in June 2021 versus 3,065 homes sold in June 2020. Residential properties labeled as pending (or under contract) rose 7.94% in June 2021 to 3,740 homes from 3,465 homes in June 2020.
Residential listings in Hampton Roads saw a 10.07% increase month-over-month. In June 2021, there were 4,220 active listings on the market compared to 3,834 homes in May 2021 and even fewer homes for sale in April 2021 at 3,780 homes. This subtle increase is still much lower than the 5,845 homes that entered the market in June of 2020.
The median sales price for residential properties in the Hampton Roads region for June 2021 was $298,470, a 13.66% increase from this time last year, and a 2.92% bump from this time last month.
By: Lindsay Stephenson, REIN Marketing Communications