Homebuyer Demand Continues To Outpace Available Housing Inventory
Posted by Marvin Peck on Tuesday, August 10, 2021 at 5:10 PM
By Marvin Peck / August 10, 2021
Comment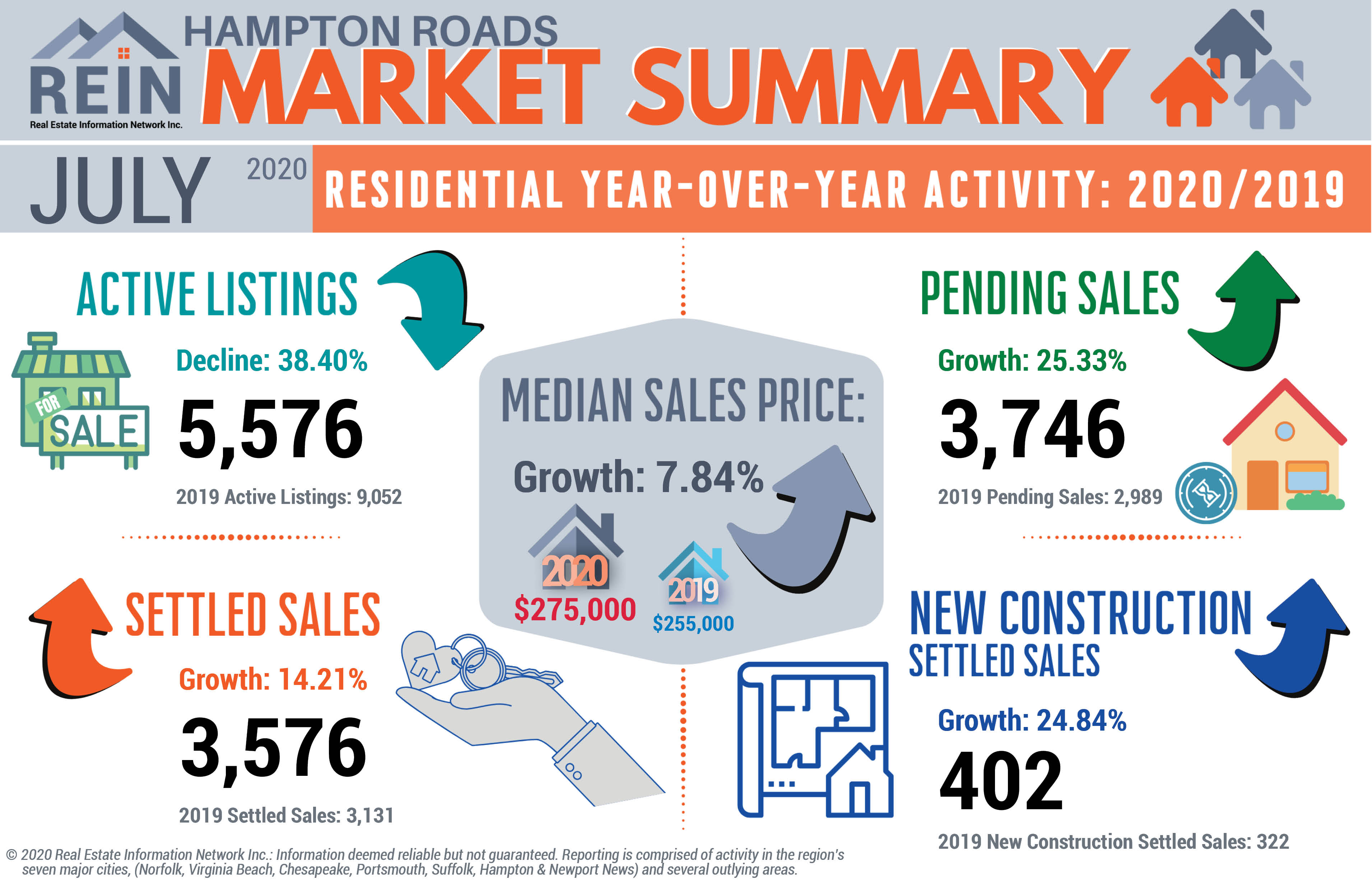 Homebuyers Demand Continues to Outpace Available Inventory
VIRGINIA BEACH, VA. (August 2021) – Record low mortgage rates continue to fuel demand from home buyers who are hoping to find a home that meets both their budgets and their needs. However, this demand has outpaced available inventory in the area.
REIN, Southeastern Virginia's Multiple Listing Service (MLS) and the source of statistical real estate data in Hampton Roads, reported a decrease in active listings on the market in July 2021, which continues to drive the median sales price up in the area. In July 2021, there were 4,621 active listings on the market compared to 5,576 in July 2020, which is a decrease of 17.13%.
REIN reports that the median residential sales price for sold homes in July 2021 was $300,000, a 9.09% increase from the previous year and the highest amount in 2021. The median residential sales price has increased for the second month in a row. The median sales price in June 2021 was $298,470, up 2.92% from May 2021 at $290,000. This is nearly a 3.5% increase over the last two months.
"The limited number of listings as compared to last year indicates that supply is still lagging and is keeping us in a seller's market," notes REIN President of the Board Harry Cross. "This also tells us why the average price keeps climbing — more demand than supply."
This trend in decreased inventory available to home buyers in Hampton Roads has been ongoing since the beginning of 2021, with inventory hovering below 4,000 active listings per month since the beginning of the year. In January 2021, there was a 44.89% decrease in residential listings year-over-year with 3,664 active listings on the market as compared to 6,648 listings in January 2020.
Month-over-month, active listings increased in July from 4,220 in June 2021 to 4,621 in July 2021.
Year-over-year, REIN reported increases in settled sales at 6.32%, with 3,801 homes sold in July 2021 versus 3,575 homes sold in July 2020. Residential properties labeled as pending (or under contract) were relatively flat year-over-year: in July 2021 3,544 homes were pending. Last July 2020, 3,559 homes were pending.
"August is traditionally one of our slower months with families taking vacations and kids getting ready to go back to school. This may not be true this summer as interest rates continue to remain low and demand for homes stays steady," said Cross. "It is still a great time to sell a home."
Month's Supply of Inventory, the amount of time that it would take to sell every available home on the market if there were no new homes added, was down year-over-year by 32.88%. In July 2020, Month's Supply of Inventory was 2.19 months. In July 2021, that number was down to 1.47 months.
By: Tiffany Thompson, MLS Director of Marketing