Historically Low Housing Inventory Finally Sees An Increase
Posted by Marvin Peck on Friday, May 21, 2021 at 10:28 AM
By Marvin Peck / May 21, 2021
Comment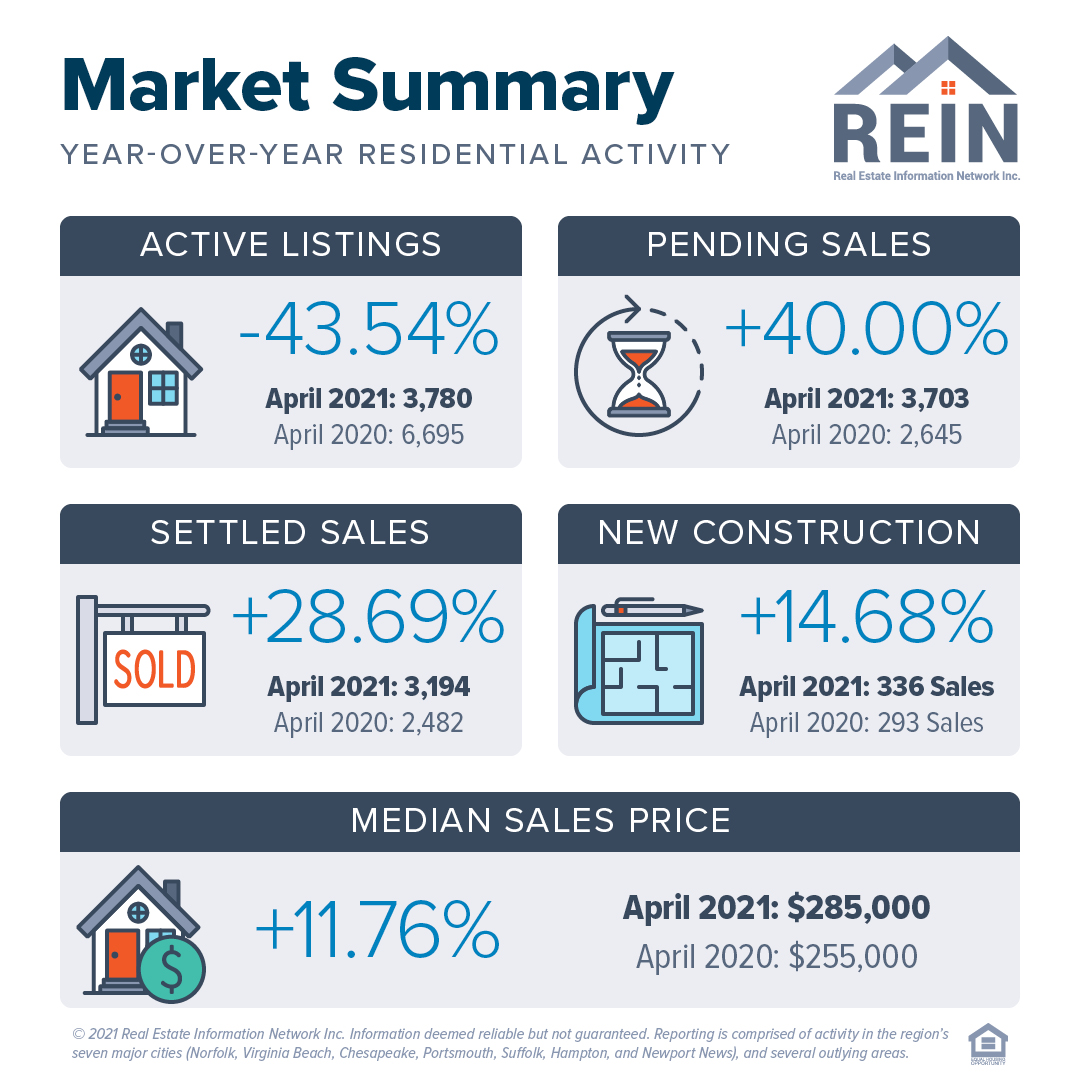 Historically Low Inventory Finally Sees an Increase
VIRGINIA BEACH, VA. (May 2021) – Real estate professionals are still navigating record low inventory, multiple offers, and discouraged buyers. However, there is a sign that the region's unprecedented low inventory may finally be on the rise. According to REIN, Southeastern Virginia's Multiple Listing Service (MLS) and the source of statistical real estate data in Hampton Roads, higher numbers of listings have been input into the MLS since February of this year showing signs of an increase in availability.
In April 2021, there were 3,780 active listings on the market compared to just 3,552 homes in March 2021 and even fewer homes for sale in February at 3,350 homes. This small increase is by no means a match for the 6,695 homes for sale from April 2020, but this uptick could signal a new trend worth watching.
"We didn't experience a traditional spring market last year due to the pandemic," said REIN President Harry Cross. "It's nice to see more properties coming into the MLS database, even if it's just a few hundred more than the previous months. With many clients getting above-asking price offers, other homeowners are realizing that now is the ideal time to sell their homes." Cross goes on to explain, "Over the years I have seen similar markets — I call them 'auction markets' because multiple offers create an auction-type environment for buyers and sellers. It is a tough market. We are all looking forward to a more stable marketplace, and getting everyone vaccinated will definitely help!"
In April 2021, pending sales saw a 40% increase year-over-year. Residential properties labeled as pending or under contract rose in April 2021 to 3,703 homes from just 2,645 homes in April 2020. Sales continued a positive trend as REIN saw settled sales rise 28.69% with 3,194 homes sold in April 2021 versus 2,482 homes sold in April 2020. The median sales price for residential properties in the Hampton Roads region for April 2021 was $285,000, an 11.76% increase from this time last year and saw a 3.55% increase from March 2021.
The months' supply of inventory also increased slightly from 1.21 months in March 2021 to 1.27 months in April 2021. In April 2021, the city of Hampton saw a months' supply of inventory of 1.01 months, officially surpassing Virginia Beach's once lowest number of 1.02 months' supply of inventory. These numbers indicate that inventory in these cities would deplete in just one month if no new listings hit the market.
By: Lindsay Stephenson, REIN Marketing Communications