Area Home Prices Rise Again To New Record High
Posted by Marvin Peck on Thursday, May 12, 2022 at 10:32 AM
By Marvin Peck / May 12, 2022
Comment
Area Home Prices Rise Again to New Record High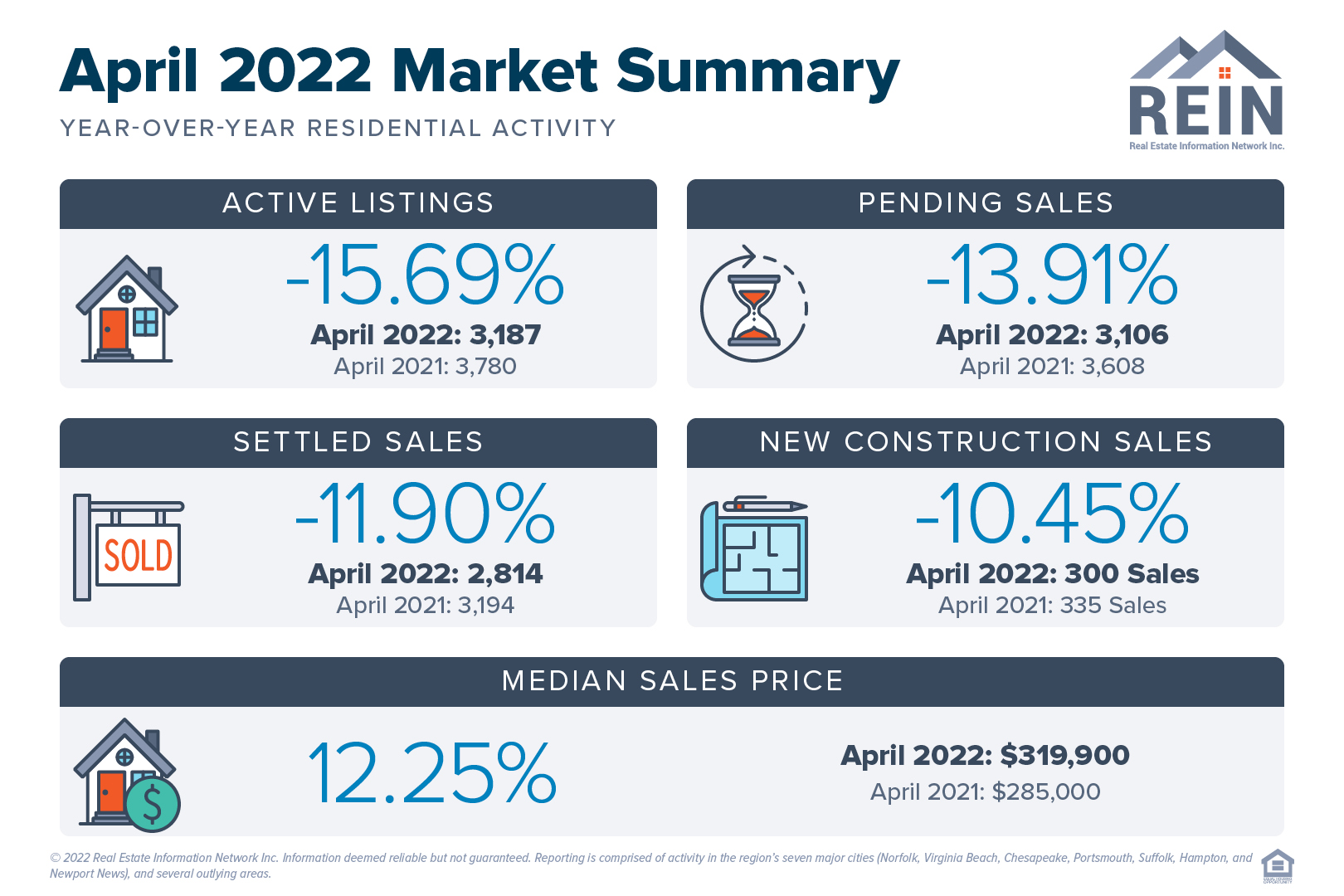 VIRGINIA BEACH, Va. (May 2022) – Another month has passed, and another record has been set in the Hampton Roads real estate market.
During April, the median sales price (MSP) of all homes sold in the region reached $319,900. The previous high was $300,000, which occurred both last month and in July 2021. Year-over-year, the MSP was up 12.25% from $285,000 in April 2021. The MSP was just $255,000 in April 2020.
The data was compiled by the Real Estate Information Network (REIN), Hampton Roads' multiple listing service (MLS).
"Housing affordability is a concern for us all, so we're always paying attention to home prices and where they're heading," said Liz Moore, President of REIN's Board of Directors and Owner/Broker of Liz Moore & Associates. "It's never a good thing for potential buyers and those who need a home to be priced out of the market."
While limited supply and strong demand are keeping prices high and the residential market tight throughout Hampton Roads, Moore said that rising mortgage rates are beginning to impact demand both locally and across the nation.
As an example, the Months' Supply of Inventory (MSI), which is a calculation of how long it would take for all inventory to be sold if no new properties came on the market, was up very slightly, she said. The MSI was 1.01 in April. It was just .88 in March, which represented less than one month's supply. The MSI was 1.27 in April 2021.
"That's still well below what we'd like to see in a balanced real estate market. Nevertheless, right now the MSI moving up is better than it moving down," said Moore.
The number of active residential listings for April was 3,187. That's down from 3,780 at the same time last year, and less than half of the 6,695 active listings for April 2020. In April 2019 there were 8,974 homes on the market.

Year-over-year, the number of settled sales for April was down 11.9%, with 2,814 in April 2022 compared to 3,194 in April 2021.

Pending residential sales for April were 3,106, compared to 3,608 in April 2021.

New residential listings for April were 4,056. That's up 3.8% month-over-month.

New construction listed and sold via the MLS was 300, down from 319 last
BY: Rami Yoakum, REIN Communications Specialist